Post by Arya on Dec 8, 2006 17:18:49 GMT -5
Name:
Arya Dröttningu
Age:
100 years old
Gender:
Female
Appearance:
Arya is a gorgeous young elf (considering elves are immortal). Her hair is a straight golden blond with fiery orange ascents and her eyes are a flaming lime green. Her eyelashes are unusually long which highlight her bright eyes. The soft pink of her cheeks coordinate with her shimmering green eyes. Arya's lips are a plump rose pink and her ears are pointed in an elvish way. She wears earrings of precious gems and gold given to her by the elven queen.
Her figure is tall and extremely thin. She wears elvish clothing and dresses of a silky soft armor in various vibrant or gleaming colors. Arya's skin is a smooth and pale tan but is flushed with a gentle pink. Her nails are long and shine with a beautiful white gleam. She carries with her a feather-light elven sword that is long and is razer sharp. Occasionally strapped to her back will be pointed arrows and a silver elven bow which Arya has mastered well. She really is a spectacular elven princess!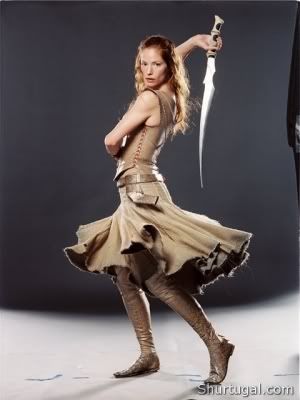 [sword fighting..sweet!]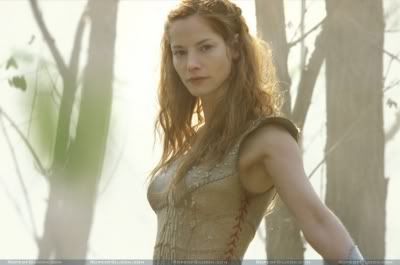 [pretty in the sunshine!]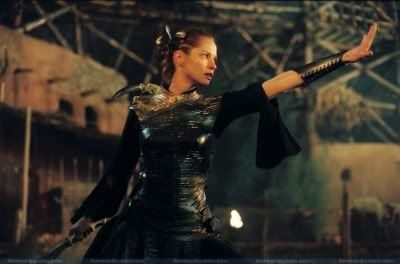 [kicking some butt with magic!]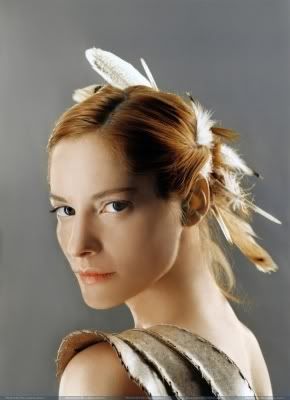 [awesome feathers in her hair]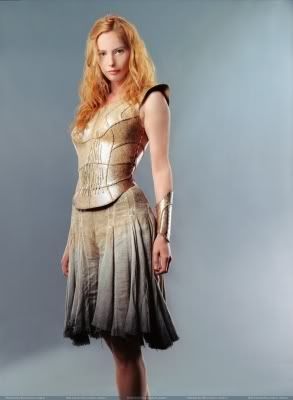 [another awesome pose]
RP Example:
Arya woke her head throbbing and her vision still a bit blurry. She stood up in agony and began limping to what she thought to be a door in her deliriousness. Instead she hit thick metal bars. Panic erupted in her mind and when her vision came back to her she saw she was in a cell. Arya struggled to remember what had happened and then it finally struck her. She had been captured by Durza an evil man who worked for the empire. It was pitch black were Arya sat and all you could see was her bright green eyes and her fiery red hair.
She wore a once cream dress which was now molded with mud. Her sword was gone from her sheath and she glowed with anger. Arya's eyes flickered like a green flame and her smooth pale skin grew to an unusual pink.
I can escape from here easily
she thought resolving her problem.
Just a bit of magic and I'll be out.
Suddenly a violent pang of thirst and hunger erupted in her throat and stomach. Arya saw with her elf eyes a plate with a hard crusty piece of bread and dirty water lying on the ground.
I'll just have some food and drink before I leave
she thought with disgust but the thirst and hunger was overpowering, she didn't care what she ate.
After the miniature meal Arya strided to the double locked gate. She focused her mind on her task and with great power she hollered "jierda!"Arya tumbled to the ground as she filled with pain and agony. Her spell had not worked and she felt weak and helpless. A tear trickled down her soft beautiful face. It was not in her nature ever to cry. "What is happening to me?" Arya cried as pain shot through her body.
Rank:
Hero
Country
Ellesméra
Personality:
Arya is a mysterious hero. She is a determined young elf who strives in everything she does. She is a being not filled with guilt or regret for she is a proud woman. She would do anything to protect her friends but if you are an enemy watch your back. Arya is full of strength, bravery, and kindness but her strongest characteristic is determination. She is not a person who would give up and Arya is sometimes can be a bit stubborn. Her heart is huge but there is no room for traitors for Arya does not take kindly to them. Arya would not miss a chance to succeed or make a new friend. She is not a person who would break a promise which makes her easy to trust. Arya is an amazing person with many more great characteristics than the ones described. Once you know her, her personality will just pop out at you.
Codeword:
Zar'roc